Weddings at Cliffside Lodge
Rates & Policies | Map & Directions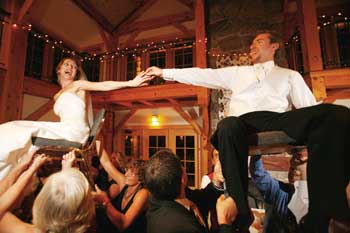 Cliffside Lodge is the perfect venue for your wedding or special event and can accommodate up to 100+ guests for a seated or standing cocktail event.
You've dreamt of your wedding your entire life, so make the moment last more than a single day-celebrate with your friends and family over a full weekend. The rustic elegance and country charm of one of Maine's hidden gems-Cliffside Lodge is the perfect venue for a Spring, Summer or Fall Maine wedding.
The classically styled timber framed lodge overlooks the beautiful private lake, woods and cabins of Camp North Star in secluded yet accessible Poland Spring, Maine, just 40 minutes north of Portland, Maine and an hour and half north of Boston. The interior's exposed beams, wide porches and prominent working stone fireplace evoke the elegant Adirondack lodges of the early 20th century, while the facility offers all of the conveniences of the 21st. Towering pines, dramatic rock outcroppings, and secluded lake views create an atmosphere that is both tranquil and invigorating.
The lodge is ideally suited for wedding receptions of 100+ guests or less, and sleeping accommodations are included in all weekend rentals for up to 20 guests in the lodge's six bedrooms.
Check out some photos of a Cliffside Lodge wedding taken by Rene Minnis Photography.